Evesham Twp. to use percentage of new PILOT revenues to provide public safety grants for the Evesham Township School District and Evesham Fire District No. 1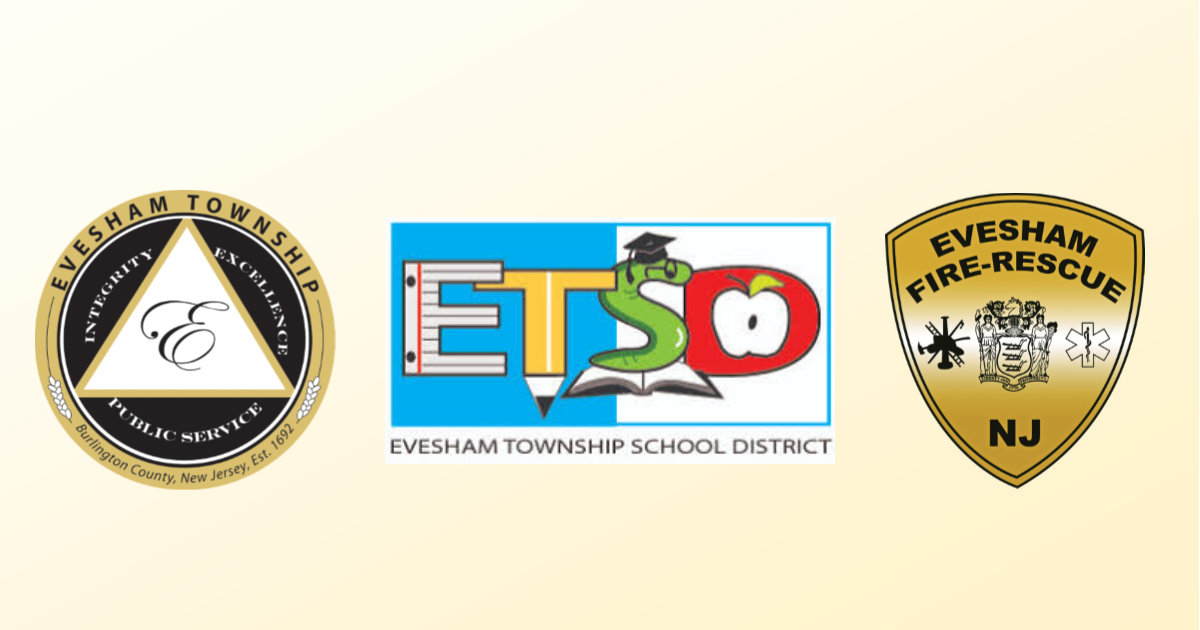 PRESS RELEASE

EVESHAM TOWNSHIP, NJ, Feb. 12, 2021 - Evesham Township Council has unanimously approved the creation of a new initiative to provide public safety grants for Evesham's local school district and local fire district in order to help these agencies continue their outstanding track record of protecting Evesham residents and their families.
To fund these new public safety project grants, Evesham Township will set aside a percentage of new PILOT (Payments in Lieu of Taxes) revenues that the township receives from future revenues with private developers moving forward.
The Evesham Township School District (ETSD) or Evesham Fire District No. 1 will then be able to apply to the township for grants to fund projects that promote public safety in the local school district or local fire district.
By creating this opportunity for new public safety grants, the township hopes to address a longstanding concern that PILOT agreements do not directly benefit the local school district or local fire district in a timely manner.
"Public safety is a top priority for our residents and their families, so I'm incredibly proud our professionals designed a process where the municipality can offer even more assistance to our local school district and local fire district," Mayor Jaclyn Veasy said. "We look forward to ensuring a percentage of PILOT revenues is equitably distributed, while still ensuring that our own municipal budget remains fiscally sound."
Leaders from the ETSD and Evesham Fire District No. 1 also fully endorsed this new initiative.
ETSD Board of Education President Joe Fisicaro Jr. said the district was "incredibly thrilled" to be a part of the new partnership.
"It fosters a fantastic relationship between the municipal government and our local schools," Fisicaro said. "At the end of the day, these types of funds will help us protect children. These funds will provide extra resources to help support school security and help us protect students, and it's my hope that this partnership lasts a very long time."
ETSD Superintendent Dr. Justin Smith also extolled the virtues of the fund and grant program.
"The initiation of this grant program to support our local school and fire districts is a tremendous point of light, and part of the positive, collaborative vision of Mayor Veasy and our Township Council leadership, embodying the spirit of our togetherness that is a hallmark of our town," Smith said. "Our district deeply appreciates this assistance, for the benefit of all our students."
John Behnke, who serves as President of the Board of Fire Commissioners for Evesham Fire District No. 1, joined the ETSD leaders in praising the municipality's new initiative.
"I want to thank Mayor Veasy and Township Council, and the township management team, for their work and approval on this ordinance," Behnke said "The township's consideration of the financial challenges PILOT programs may place upon the Fire District is very much appreciated. Thank you for your consideration of the Fire District and the community at large."
Under state law, PILOT agreements encourage developers to improve underutilized or blighted properties by having municipalities forgo collecting the full property tax bill of a redeveloped property for a set period of time. Developers are then allowed to make direct payments to municipalities to compensate for a municipality's loss of tax revenue.
Municipalities may legally retain up to 95 percent of revenues collected each year under a PILOT agreement, with the remaining 5 percent of revenues required to be paid to the county where a municipality is located.
With Evesham Township's new initiative, once a percentage of new PILOT revenues has been allocated to officially titled "Redevelopment Community Development Fund," the fund will not be available for the township to utilize for other budgetary items.
Any monies that remain in the fund at the end of a given budget cycle will carry to the next budget cycle.
Only projects that promote public safety through the ETSD or Evesham Fire District No. 1 will be considered eligible for grants, such as but not limited to: funding for school resource officers, new personal protective equipment, building security upgrades, new safety apparatus or safety vehicles, etc.
Now that the township has officially established the fund for these grants, the township is able to legally begin the process of developing an official grant application and further guidelines. Future funds will then be equitably distributed as part of the application process when the ETSD or Evesham Fire District No. 1 propose public safety projects.