Fourth of July Celebration set for July 4; registration for Fireworks Parking Passes NOW OPEN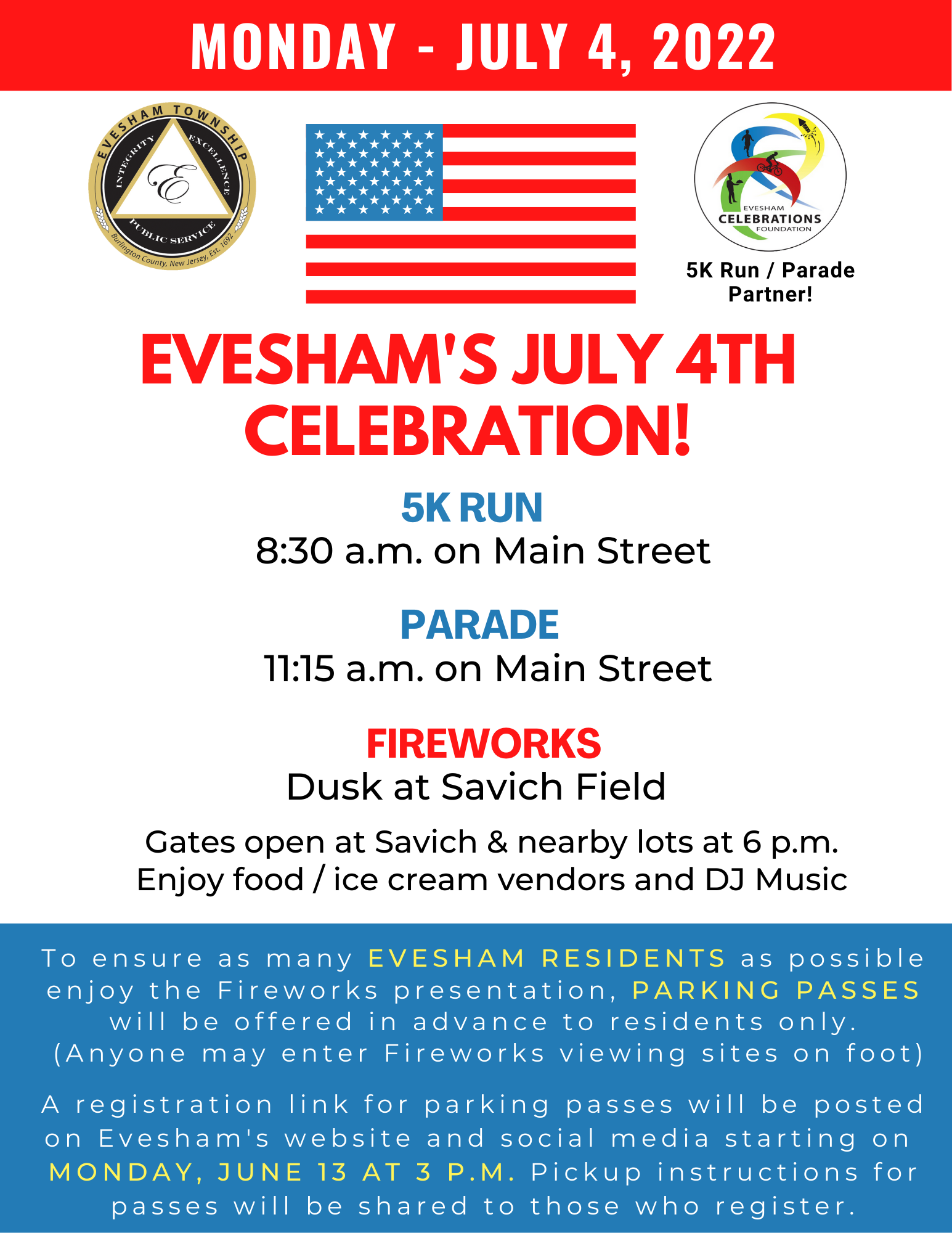 UPDATE: FIREWORKS PARKING PASS REGISTRATION IS NOW OPEN! CLICK HERE TO REGISTER!
Evesham Township invites you to once again join our annual Fourth of July Celebration on Monday, July 4!
The celebration starts with a 5K Run and Parade down Main Street, organized in partnership with the nonprofit Evesham Celebrations Foundation.
Don't miss out on all the fun acts, community participants, and plenty of great music! Sign up for the 5K at https://runsignup.com/Race/NJ/Marlton/MarltonMayorsCup20125k1MileRunWalk
Then, later in the day, please join for our amazing fireworks display at Savich Field at dusk!
Due to last year's popular response, the township will once again be offering parking passes strictly to Evesham residents in order to ensure that as many residents as possible are able to enjoy the show. (If traveling by foot, anyone may enter any of the viewing sites with no pass required.)
To reserve a parking pass, residents are asked to use an online registration link that will be posted on Evesham's website and social media on Monday, June 13, at 3 p.m. Only one parking pass will be required per vehicle, regardless of the number of passengers.
Similar to last year, residents will be asked to present an ID with a corresponding Marlton address when they pick up their passes in person. Specific pickup dates and times will be shared once registration is open.
DJ Music and multiple food / ice cream vendors will also be at Savich for spectators to enjoy before the show.
See you on July 4!